Client /server architecture with flexible components
WebCC comprises a core system that can be individually parameterized and configured. This web core is then accessed by flexible adaption modules for different data servers. Using modules, the system can be expanded and is so flexible that it can be readily adapted to any data server.
The system is structured around a client/server architecture and utilizes available browser technologies. The centerpiece is a Java-based web and mail server that acts as a database agent to make all forms and applications available for further processing.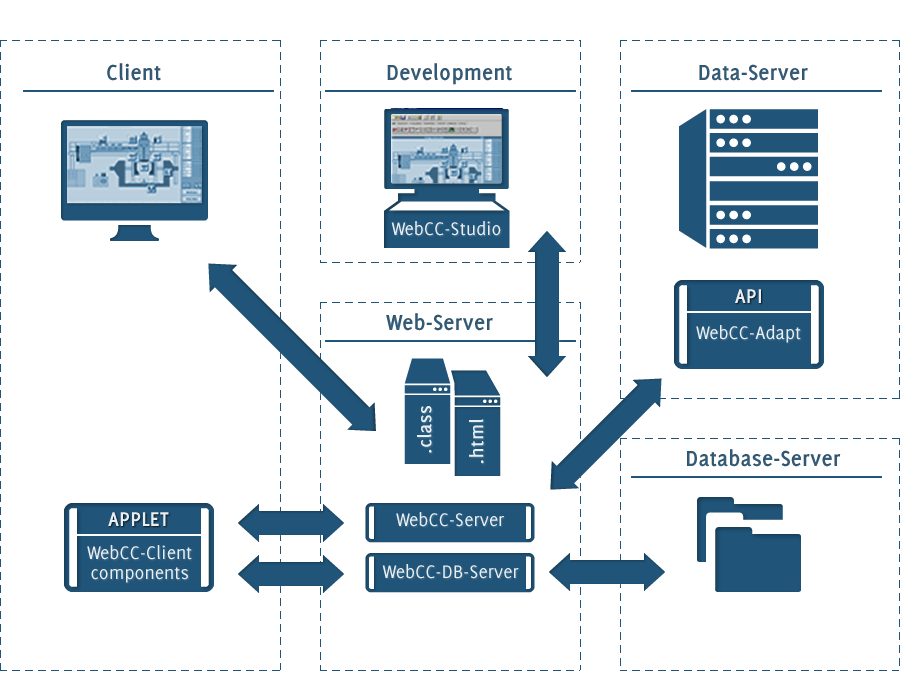 The process monitoring of physically separated facilities and the remote controlling of your processes take place over an advanced Internet architecture.

Current messages and all archived data can be displayed and processed at any time. A selection of messages can also be obtained according to user-defined criteria and through filters.

Current trends and historical events are converted into graphic data for display in curve diagrams. An interactive dialog guides the user through the online setup of all relevant system properties, which can also be modified online.

The integrated graphic system supports the user in all aspects of modification. All elements of visualization and operation can be freely arranged over full-graphic beans components.

WebCC connects data worlds. This means that formerly separate data worlds of the front office and the factory floor or process are now merging. Using the integrated database gateway DB4Web gains full access to databases such as Oracle, SQL-Server, MySQL and Access. In addition data sources such as Excel can be used.